inxpot hosted a going-away party last Monday night for their long-time employee, Diane Burris. She was the general manager at inxpot Keystone for almost 12 years and has left quite a legacy. Diane stepped down from her managing position to pursue her dream of having her own coffee shop. The inxpot family and close friends came together to celebrate Diane Burris' many years of service and to wish her luck in her new life venture as owner of Cool River Coffeehouse in Breckenridge, Colorado.
Diane's departure from inxpot developed a mixture of feelings, but the prevailing tone of the party was happiness. Over the years, Diane's passion and love for coffee grew beyond management. She wanted to have her own shop, however, the timing and funds never seemed to work out. Diane remained positive and an opportunity to bid on Cool River Coffeehouse presented itself.
Dreams Do Come True
In November 2016, Diane received the support needed to take over ownership of Cool River Coffeehouse in Breckenridge, Colorado. She plans to keep the name and many of the baking recipes, but she has been making moves to bring more awareness to the business. Cool River Coffeehouse now offers local, high-quality items including: tasty coffee from Huckleberry Roasters, fresh bagels from Di's Mountain Bagels, and spicy chai from Sherpa Chai.
If you find yourself in Breckenridge, drop by Cool River Coffeehouse to see Diane. The shop is open 8am-2pm Thursday through Monday. When Breckenridge Ski Resort opens, she hopes to extend business hours to 7am-5pm everyday.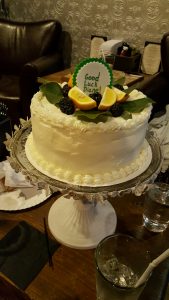 Good Luck, Diane
As the party tapered off, Diane found herself turning off the lights at inxpot for the last time. It marked the end of an era. But like most goodbyes, it was a see you later. She promised to stop by from time to time and inxpot will suggest Cool River Coffeehouse to anyone visiting the Breckenridge area.
Cheers, Diane. inxpot wishes you the best!
The universe will give back what you put into it. So don't forget to smile, you might make somebody's day. And that positivity might just come full circle and help you achieve your own dream. Someday.