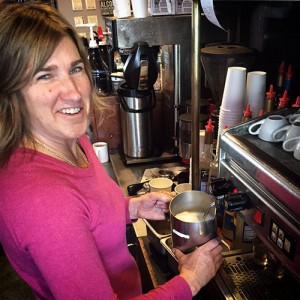 Diane has been the manager at inxpot since 2001. She has infused her enthusiasm and sense of caring into the establishment and employees to ensure that you get a smile with your coffee every morning.
Where are you from?
Dayton, OH
What brought you to Keystone?
I was living in PA and visited Keystone in the summer of 2000 for Widespread Panic concert. I met several future friends on that trip, got an offer for a job, and I moved out a couple months later.
What is your favorite coffee drink?
Butter pecan latté
How many shots of espresso per day?
Not more than 4
Barista experience:
I worked in an Italian café in Seattle in 1993 and have been at inxpot since 2001
Favorite color:
Orange
El nino or La nina:
El Nino
Summer or winter:
Summer
Activity of choice:
Stand up Paddleboarding
Why are you awesome?
Because I care