inxpot Says Goodbye to Diane Burris
Diane Burris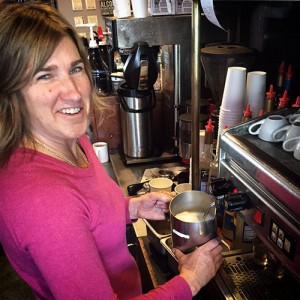 has been the face of inxpot for as long as most people can remember. From running the cash register to managing our Yelp page, she has done it all. Her upbeat personality has become iconic to the inxpot Keystone experience. After countless years of great service, Diane has decided to step down from her general manager position in order to pursue her own endeavors.
Dedicated to Making inxpot One of the Best
Diane has been with inxpot since May 2001 and can be accredited for many of the changes in the coffeehouse. Over the years, Diane helped transform inxpot's menu from coffee and muffins to a full breakfast and lunch spot. She has enjoyed being a part of the business for so long and relishes the continuous growth it has experienced over the years.
Her emphasis on friendly customer service has constantly been improving guest experience at inxpot and has helped the business thrive over the years. In fact, inxpot attained 2nd place coffeehouse for the 2016 "Best of Summit" awards. These enhanced customer ratings and local business achievements reflect Diane's hard work and dedication to inxpot.
Because of Diane, inxpot has become a memorable experience for many Keystone visitors and a local's favorite. Her emphasis on keeping every customer happy has transformed the inxpot experience and will remain a staple at the coffeehouse. We will truly miss Diane's upbeat attitude and wish her all of the best in her future pursuit. Thank you for helping inxpot thrive over the years and for keeping all of our customers happy!
Diane's Rule of Thumb: "Smile More"
They say that a smile is contagious. Even though Diane is leaving inxpot, we promise to keep smiling and delivering the best possible experience for our guests. Thank you, Diane for sharing your friendly, upbeat personality with inxpot for so many years. Everyone here at inxpot wishes you the best of luck in the future!
Celebrating Years of Outstanding Customer Service
This last weekend of October 2016 will be Diane's final days behind the counter at inxpot. Please stop by to wish her well on her personal pursuits.
inxpot will also be hosting a good-bye party to celebrate her many years as general manager and to wish her well on future endeavors. Please join us on November 7, 2016 at 4:30pm to congratulate Diane on her next big adventure!
ps.
Diane wanted to thank inxpot owners Tom & Susan Chehak for being supportive of her job and all of the great things happening at inxpot all of these years.
It's been an honor being able to run this coffee shop with all of their creative influence.