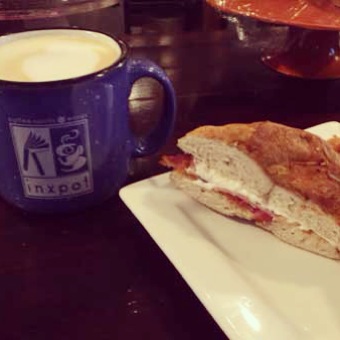 All of the bagels at inxpot come from D's Mountain Bagels, baked right around the corner in Breckenridge.
On any given day we stock a variety of flavors:
Honey Wheet
Sesame
Everything
Swiss
Jalapeno Cheddar
Apple Cinnamon
One of my personal favorites is the Apple Cinnamon, layered with cream cheese and bacon! A wonderful early morning sweet, savory treat.
The Quiche of the day has been flying off the shelf lately, we've been upping it to 2-3 varieties each day!
A recent selection:
Tomato, spinach, Swiss cheese
Bacon, jalapeño, cream cheese